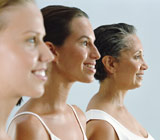 You may think the structures of your face and mouth stop growing when you reach adulthood. That's not true: your skeletal structure, facial features and soft tissues continue to change all through your life, even into old age. In fact, there's as much change from ages 25 to 42 as there is from ages 18 to 25. This fact of continuous growth and change affects the approaches we may take to satisfy your oral and dental needs.
We should especially consider facial changes due to aging as a factor when planning orthodontic treatment. For example, as we age the profile of our face will tend to flatten, which makes our nose become more prominent (and, yes, our noses continue to grow longer as we grow older). A good plan will take advantage of this, especially during expected growth spurts such as right before puberty. As the position of the patient's bite improves through treatment, the continuing growth of their facial profile will continue to bring the angle of the jaw into a more aesthetic position.
Likewise, where there are multiple issues with the mouth and face, orthodontics can be employed with other treatments such as rhinoplasty, the surgical improvement to the shape of the nose, or orthognathic surgery, procedures that correct problems associated with the position and structure of the lower jaw. As we employee these techniques, we keep in mind that the mouth and face are essentially a "moving target" — that is, they will continue to move in the direction of change due to aging. We coordinate the outcomes of treatment to eventually meet up with that eventual growth.
Armed with an understanding of how change occurs during aging, we can coordinate these procedures into a well-timed strategy that actually takes advantage of the aging process. The end result is a more favorable aesthetic appearance for the long-term.
If you would like more information on how aging can affect your dental health and treatment options, please contact us or schedule an appointment for a consultation. You can also learn more about this topic by reading the Dear Doctor magazine article "Understanding Aging Makes Beauty Timeless."