Posts for tag: dental injuries
By De Pere Family Dentistry, L.L.C.
November 17, 2020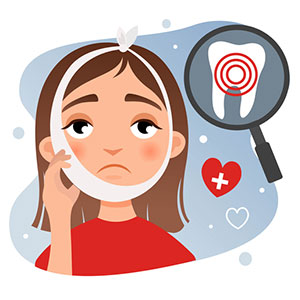 Parents love watching their kids grow up, from those early wobbly steps to their first solo car drive. Of course, you can expect a few mishaps along the way, most of which won't leave them worse for wear. But some risks are just too hazardous to ignore—including the potential for dental injuries.
Each year, one in ten children suffers a traumatic dental injury, many of which require extensive treatment. That's why during National Child Safety and Prevention Month in November, we're highlighting areas of risk for pediatric dental injuries, and how you can prevent them.
That risk changes depending on a child's stage of development. Teething infants, for example, relieve gum pressure by gnawing on things. Make sure, then, that you have items for teething made of cloth or soft plastic, and keep harder items that could damage their gums and emerging teeth out of reach.
Toddlers learning to walk encounter numerous injury opportunities, like a fall that lands them face first on a hard surface. You can reduce this risk by moving tables and other hard furniture out of your child's travel paths, covering sharp edges with padding, or simply isolating your child from home areas with hard furniture.
Pay attention also during bath time. Wet porcelain is notoriously slippery even for adults, and possibly more so for a child. A sudden slip in the bathtub could cause a mouth injury, so encourage your child not to stand until it's time to get out.
School-aged children face another set of perils to their mouth from outside play. At this stage, your best preventive measure is teaching them to observe play safety: Make sure they know not to aim balls, frisbees or other play items at others' heads, and to be on the lookout for the same. You'll also want them to be safety-minded playing on swings, monkey bars or other playground equipment.
If your older kids take an interest in sports, particularly the contact variety, you'll want to protect them with an athletic mouthguard (and encourage them to wear it during both practice and regular games). You can purchase a mouthguard at any retail or sporting goods store, but the most protective and comfortable to wear are custom-made by a dentist. Although more expensive, they'll still cost less than treatment for a traumatic dental injury.
The wonderful adventure of childhood does have its risks, and some are more serious than others. By following these prevention tips, you can help your child avoid a dental injury that could rob them of a healthy mouth.
If you would like more information about childhood dental concerns, please contact us or schedule a consultation. To learn more, read the Dear Doctor magazine articles "Dentistry and Oral Health for Children" and "An Introduction to Sports Injuries & Dentistry."
By De Pere Family Dentistry, L.L.C.
July 30, 2020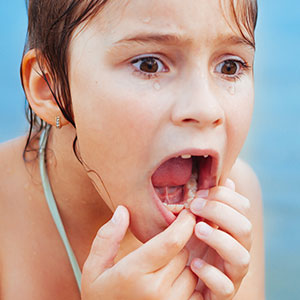 As summer reaches its apex here in the western hemisphere, warmer weather beckons many of us out of doors. And there's plenty of fun to be had, from hiking and camping to frolicking in the pool, so long as you're playing it safe—and that includes with your family's dental health.
As physical activity increases during the summer months, so does the potential for accidents. And our mouths—especially the teeth, gums and jaws—aren't immune: In the blink of an eye an accident could cause a serious oral injury that can reverberate for weeks, months or even years. Not only that, but dental diseases like tooth decay or gum disease don't take the summer off.
So have fun this summer, but take precautions with your family's dental health. Here are a few top things that deserve your focus.
Sports-related injuries. Summer often means outdoor sports like basketball and baseball. Even if you are shooting hoops alone or honing batting and catching skills with family members, accidents can happen, possibly resulting in an injury to the mouth. To guard against this, be sure the athletes in your family wear appropriate protective gear like helmets or mouthguards.
Slips and falls. Moving around outdoors, especially in unfamiliar territory, increases the risk for falls that could injure the mouth. A pool area can be especially hazardous: Hard surfaces that are slippery when wet, for example, are a tooth injury waiting to happen. So, try to eliminate structural hazards around pools or other high-risk areas as much as possible, and insist that everyone adhere to safety rules like "No running."
Oral hygiene. Although not in the category of an accidental blow or fall, dental disease is still a year-round risk: Your family may be taking a break from routine, but disease-causing oral bacteria don't. So, encourage your family even in the more laid-back summer months to continue to brush and floss every day to minimize the development of tooth decay or gum disease.
Sugary snacks. Summer may also occasion a break from what your family normally eats. As a result, you may be munching more on foods with added sugar. Remember, though, oral bacteria love this particular carbohydrate as much as your family does. More sugar in the mouth means more bacteria and a higher risk of tooth decay. So, choose items like nuts or fresh fruit as much as possible in lieu of sugary treats.
Summer is a great time for relaxing in the open air and building fond family memories. Just be sure to exercise these preventive measures to keep oral accidents or dental disease from ruining the fun.
If you would like more information about dental prevention measures, please contact us or schedule a consultation. To learn more, read the Dear Doctor magazine articles "Athletic Mouthguards" and "An Introduction to Sports Injuries & Dentistry."
By De Pere Family Dentistry, L.L.C.
December 30, 2016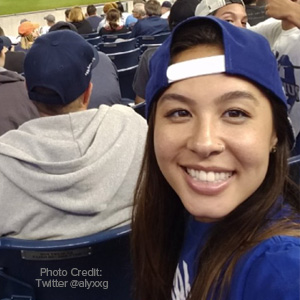 When your favorite baseball team wins, it's hard not to get excited — especially if you're right there in the stadium. It's even better when a player tosses the ball to fans. But sometimes, in the heat of the moment, things can go awry.
That's what happened during a recent game at New York's Yankee Stadium. After catching the ball that ended the game in an 8-2 Dodgers win, Los Angeles outfielder Yasiel Puig tossed it into a cheering crowd of supporters. "I saw it coming at me and I remember thinking, 'I don't have a glove to catch this ball,'" Dodgers fan Alyssa Gerharter told the New York Daily News. "I felt it hit me and I could feel immediately with my tongue there's a hole. And I looked down at my hand and saw there's a tooth in my hand."
Ouch. Just like that, one fan's dream became… a not-so-good dream. But fortunately for the 25-year-old software engineer, things went uphill from there. Ushers quickly escorted her into a first-aid room at the stadium. She was then rushed to a nearby hospital, where the upper front tooth was re-inserted into her jaw. After a follow-up appointment at her dentist's office the next day, Gerharter said she remains hopeful the re-inserted tooth will fuse with the bone, and won't require replacement.
We hope so too. And in fact, she has as good a chance of a successful outcome as anyone, because she did everything right. If you're not sure what to do about a knocked-out tooth, here are the basics:
locate the tooth, handle it carefully (don't touch the root surface), and if possible gently clean it with water
try to open the person's mouth and find the place where the tooth came from
carefully re-insert the tooth in its socket if possible, making sure it is facing the right way
hold the tooth in place with a soft cloth as you rush to the dental office or the nearest urgent care facility
if it can't be replaced in its socket, place the tooth in a special preservative solution or milk, or have the person hold it between the cheek and gum (making sure they won't swallow it) — and then seek immediate care at the dental office
follow up at the dental office as recommended
In general, the quicker you perform these steps, the more likely it is that the tooth can be preserved. How quick is quick? The best outcomes are expected when re-implantation occurs in no more than five minutes. So if you're in this situation, don't wait: get (or give) appropriate first aid right away — it just might save a tooth!
If you would like more information about what to do in a dental emergency, contact us or schedule an appointment for a consultation. You can learn more the Dear Doctor articles "Knocked Out Tooth," and "The Field-Side Guide to Dental Injuries."